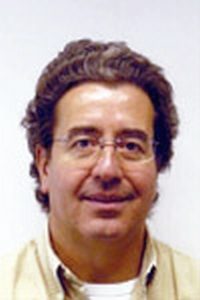 Pere Brunet receives the Eurographics Distinguished Career Award 2008 for his strong technical contributions, his continued and successful role in training young researches in Computer Graphics, which have later established themselves as faculty and researchers, and for shaping computer graphics research in Spain.
Pere Brunet received his PhD from the "Universitat Politecnica de Catalunya" in Barcelona, Spain, in 1976. He founded the first Computer Science department at the Industrial Engineering School of that University, and steered the department's research towards Computer Graphics. This was the first research group in the area in Spain, and had an indisputable role in the establishment of new Computer Graphics research groups throughout Spain. He become Full Professor in 1986 at the Software department of the Universitat Politecnica de Catalunya. More recently, in 2000, he led the creation of the first virtual reality laboratory in Spain, hosted also at UPC.
Pere Brunet's main area of research is in computer graphics with a focus on geometric and solid modeling. His first paper on Computer Graphics was published in 1980. He has pioneered the use of hierarchical representations, discrete and octree models for computer aided geometric design, modeling and virtual reality. In this area he has made several highly significant contributions that have established him as one of the leading researchers worldwide. His many diverse contributions are timely, original and significant, and it is fair to say that his results have helped to shape the field. In addition, his research has led to several application-oriented projects in the areas of computer aided geometric design and surface modeling and modeling of very complex systems and assemblies. His combined understanding of both the practical and theoretical issues involved is truly impressive.
The strength of Brunet's research is documented further by an impressive number of excellent publications that have appeared in the best computer graphics journals and conferences worldwide. He has also served in the program committees of countless conferences, and on the editorial committees of prestigious journals.
In 1986 he was the main promoter of the creation of the Spanish Chapter of Eurographics, and has since contributed to its growth and hence to the integration of the Spanish research in the field with the larger European research Community. He has been the chairman of the Spanish chapter of Eurographics since its creation in 1986 until 1990, and a member of the Eurographics Executive Committee since 1989. He was the chairman of the Eurographics Association in 2001-2002 and is a member of the Royal Spanish Academy of Engineering.
Pere Brunet is currently one of the leading researchers in computer graphics worldwide. His amount of energy and skill ensure that other important contributions by Pere Brunet and his group will follow. Eurographics is extremely pleased to recognize Pere Brunet with the 2008 Distinguished Career Award.