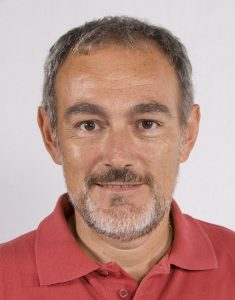 Roberto Scopigno is a Research Director at CNR-ISTI, an institute of the Italian National Research Council (CNR), where he is leading the Visual Computing Lab. Roberto won a permanent researcher position at CNR-CNUCE in 1986, become Senior Researcher in 1997 and finally Research Director in 2001 at ISTI.
Since 1990 he had joint appointments at the Department of Computer Engineering and at the Department of Computer Science of the University of Pisa, where he taught Computer Graphics courses. He was Visiting Researcher at the Vigo University (Spain) and at the University of California at Santa Cruz. He has been invited for short stages, seminars and PhD courses by several other international universities.
The work of Roberto Scopigno has had a profound impact on the field, and several contributions truly stand out. Of particular importance has been his work on surface simplification, LOD and multiresolution representations for surfaces and volumes. He has been one of the driving forces behind the development of Metro, a tool for evaluating different simplification algorithms by measuring the distance between geometric objects in a numerical and visual way. He also inspired the development of MeshLab, an open-source software for the management and processing of unstructured large meshes. His papers on these topics have been cited widely and stimulated considerable follow-up work. The BDAM algorithm and its 3D extension, Tetra-Puzzles, grew over ingenious novel data structures for hierarchical seamless space subdivision and have inspired new multiresolution applications for the inspection of terrain models and gigantic meshes.
He has been engaged in several research projects (funded by EU and national agencies) concerned with multiresolution data modeling and rendering, 3D scanning, surface reconstruction, interactive graphics and virtual reality, scientific visualization, volume rendering. Cultural Heritage and Computer-Aided Medicine/Surgery are the main fields of application for the methodologies and technologies he has developed. He is a recognized and reputed world-wide leader in the development of novel algorithms and techniques for Cultural Heritage and for the acquisition, preservation and visualization of digital copies of physical artifacts inherited from the past.
Between 2002 and 2010 he was Editor in Chief of the Eurographics Journal Computer Graphics Forum. He is presently the Editor in Chief of the ACM Journal on Computing and Cultural Heritage. He served as a Member of the ERC Panel PE6. He has been appointed coordinator of the National research action on Cultural Heritage and Information and Communication Technologies, one of the six actions of the Italian Cultural Heritage Department.
He has published more than two hundred papers in international refereed Journals and Conferences, including papers in top Conference proceedings (ACM Siggraph, Eurographics, IEEE Visualization) and top-rank Journals. As a recognition, he was awarded with the Eurographics "Outstanding Technical Contributions Award" in 2008.
Roberto Scopigno is a recognized scientific leader. He has created a very successful research group at CNR Pisa, and several of his former students have themselves become well-known productive researchers. He has demonstrated a strong leadership in Computer Graphics research in Europe, and he has been a major actor in shaping Computer Graphics in Italy. Roberto has significantly advanced the field through his work and energy, and by setting a personal example.
Eurographics is extremely pleased to recognize Roberto Scopigno with the 2014 Distinguished Career Award.