(Laudation by Prof. Dr. Markus Gross, ETH Zürich)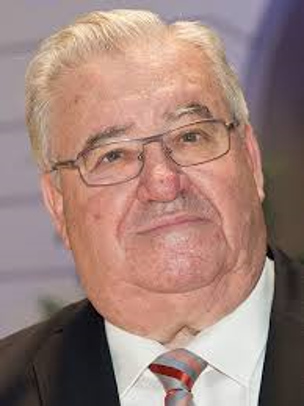 Dear Prof. Encarnação, dear Mrs. Encarnação, Ladies and Gentlemen,
it is a great pleasure and honor to be on stage here today to deliver the laudation speech for the first recipient of the newly created Eurographics medal.
He is a living legend, a pioneer, a scientist, an entrepreneur, a mentor, a force of nature – and he is a dear friend of mine.
As you all know Prof. José Luis Encarnação is one of the founding fathers of the Eurographics Association.
With unprecedented vision and instinct for innovation, he saw the potential of a new and upcoming discipline early on – Computer Graphics – and, together with a few contemporary pioneers, he created the Eurographics association in 1975. He holds membership No 1.
He served as a long term member of the Executive Committee of the Association, as his chairman, and as a chair of many conference and editorial boards.
José Encarnação can truly look back to an outstanding list of professional and academic achievements.
His work as a researcher and research manager has been recognized with countless awards and honors, but I cannot help enumerating a few of them:
He holds 7 honorary doctorates, most recently from his alma mater, the Technical University of Berlin.
He is the only European recipient of the ACM SIGGRAPH Coons Award in 1997.
He received the order of merit of the German Federal Republic in 1983 and the officer's cross in 1986, respectively.
In 1989 he was awarded with the Karl-Heinz Beckurts Price. He is a fellow of the ACM as well as a honorary fellow of the Eurographics Association.
Portugal bestowed him with the Ordem Militar de Sant'lago de Espada in 2001.
And a lot more to follow.
But let me take the opportunity to talk about the individual behind:
In the early 60ies, a very young man with the name of José Luis Moreira da Encarnação from a little village in Portugal, bestowed with a scholarship, embarks onto an adventure to take on his studies of EE at the Technical University of Berlin. This was when the journey began.
He meets his own mentor, Wolfgang Giloi, and encounters a new discipline that would transform his life: Computer Graphics.
He finishes his studies in 1970 at the Heinrich Hertz Institute with a dissertation entitled: "Contributions to the Problem of displaying Computer Generated Images".
For the next three years he would head the softwaree development group at HHI and he would start his first projects with industry.
In 1972, at the age of 31 he was appointed to a professor position at Saarland University and soon after to a full professor position at the Technical University of Darmstadt.
José Encarnação soon stood as a symbol and landmark for Computer Graphics in Germany and in Europe.
In the years to follow, he relentlessly built and developed Graphics in Darmstadt into one of the world's leading centers in our field.
In 1984 he created the Computer Graphics Center, and in 1987 the Fraunhofer Institute for Computer Graphics which still stands as his legacy to the present day.
His organization fourished under his leadership and developed into the INI Graphics Network with hundreds of researchers and outposts in Portugal, the US, Singapore and all over the world.
Over and over again, José spotted trends, disruptions, and opportunities rapidly and ahead of his contemporaries.
His research initially focused onto graphical user interfaces and APIs, and he received international fame and reputation by making GKS (the graphical kernel system) an international standard.
The standardization process required a lot of persistencce, persuasive powers, and strength of will – qualities we all so well know him for.
The success of GKS secured him significant funding from industry and it formed the seed of the Darmstadt empire.
In building up Fraunhofer IGD, José broadened up the rigid definitions of Graphics at the time and embraced multimedia, virtual reality, visualization, visual communication, imaging, artificial intelligencee, and much more.
Well ahead of his time, I see him as the true founder of Visual Computing.
José's communication skills are outstanding. He speaks 5 languages and he is one of my favorite story tellers of all time.
His lectures as a teacher at TU Darmstadt were a much appreciated highlight among all students.
Yet, his favorite way of persuation has been the visual metaphors on the white board – from which there was no escape.
Today, we honor the lifetime achievements of an individual whose extraordinary vision, powers, passion, and commitment not only shaped our own discipline, but also Computer Science as a whole.
Prof. Encarnação continues to stand a role model for a mentor, who formed and developed the careers of an impressive list of more than 100 PhD students and countless academic grandsons.
We also honor a man, who, for more than 50 years, displays a very strong faith into the values of family, and his wife Karla has been serving as a compass to him to navigate the rough waters of space and time.
And finally, Luis shaped my own career. He took me on as a prodigal son 30 years ago, he developed my skills and instincts, he introduced me to the world of graphics, he served as my advisor, and he would always be around when I needed him.
I am very proud to be his student.
Please join me all in congratulating Prof. José Luis Encarnação to the Eurographics Medal 2016 and a big round of applause for him.