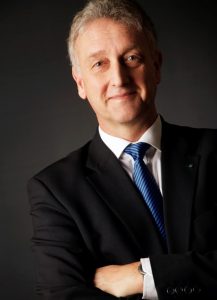 Eurographics is very pleased to award the Eurographics Medal 2018 to Prof. Dieter Fellner for his outstanding contributions to computer graphics and digital libraries, his service to the field, and his leadership within the Eurographics Association.
Dieter Fellner is Professor of computer Science at TU Darmstadt, Germany, and Director of the Fraunhofer Institute for Computer Graphics Research IGD at the same location. He is also affilitated with the Graz University of Technology, and he is the CEO of Fraunhofer Austria Research. He serves as chairman of the Fraunhofer ICT Group and as member of the Fraunhofer Presidential Council. Before joining Fraunhofer, he had been on the faculty of TU Braunschweig, Univ. Bonn, and Memorial University, Newfoundland, Canada.
Prof. Fellner's research in computer graphics and visual computing covers a broad range of topics and spans the whole spectrum ranging from fundamental research to the development of systems and services for a variety of different application domains. He also moved into new fields such as Cultural Heritage and Generalized Digital Documents / Digital Libraries, and he early on realized the tremendous potential that 3D graphics technology can bring to these fields. In the latter field he has coordinated two strategic initiatives funded by the German Research Foundation (DFG) addressing the challenges that general documents pose on libraries and information repositories.
Dieter Fellner has been instrumental in setting up the Eurographics Digital Library and for providing online access to the conference and workshop proceedings as well as to Computer Graphics Forum.
Through decades, Dieter has displayed strongest commitment to the Eurographics association and he has served in leading positions as its president, long term member of the executive committee and board, chair of the publication board, as well as its conference chair. He has also been the long-time chair of the German chapter of Eurographics.
Dieter Fellner is a fellow of the organization and a member of Academia Europaea.
Please join us in congratulating Dieter for an outstanding career in computer graphics and to the Eurographics Medal 2018.