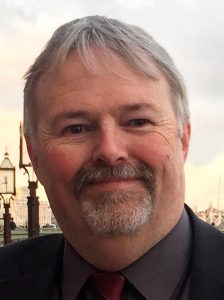 Nigel was born on 7 October 1963 in Gower, Swansea. He died suddenly on Saturday 14 October 2023 just one week after celebrating his 60th birthday.
Nigel was educated at the University of Bath, studying Mathematics and Computer science for his first degree and submitting a thesis 'Techniques for Planning Computer Animation' in 1989 for his PhD. His PhD supervisor was Professor Phil Willis and during this time Nigel published his first Eurographics paper with Phil entitled The Controller Animation System, presented at the 7th Annual Eurographics UK Chapter conference in March 1989 and published in Computer Graphics Forum. This was the start of Nigel's long association with Eurographics.
From Bath Nigel's career advanced through positions in industry with Astra Zeneca Pharmaceuticals and Silicon Graphics Inc. before joining the Manchester Visualization Centre at the University of Manchester, led by Professor Terry Hewitt. A former Director of the Centre, Professor Roger Hubbold commented that "it was clear from the start that Nigel was passionate about medical imaging". Nigel's passion for medical imaging later broadened out to other areas of medical practice where computer graphics and allied fields could make a contribution to improving the lives of others.
Nigel's next move was to a Chair at Bangor University in 2003. When Nigel arrived there was virtually no research in computer science and he set up a major research group, HPVMG, High Performance Visualisation and Medical Graphics. He received the Satava Award in 2006, an award established in 1995 and awarded to "an individual or research group demonstrating exceptional commitment to the improvement of healthcare through advanced technology". Nigel and his co-workers were awarded second prize in the Eurographics Dirk Bartz Prize in 2009 for an entry entitled ImaGINe-S: Imaging Guided Interventional Needle Simulation, a system for training practitioners in certain needle insertion procedures. This work also showcased Nigel's interests in haptics, a technology that he and his team were pursuing in a current project at the time of his death. Nigel chaired the award committee for the Dirk Bartz Prize in a number of years. As well as leading his research group, Nigel spent a period as acting Head of School at Bangor and Director of Research.
In 2013 he was awarded a Churchill Travelling Fellowship that allowed him "to make an extended visit to Australia and Singapore, spending time with research groups and hospitals who are using the concept of a virtual patient for medical training, rehearsal and education".
During this time Nigel was also a director of the pan-Wales Research Institute of Visual Computing (RIVIC).
From Bangor Nigel took up a Chair at the University of Chester in 2015 and at the time of his death was a Senior Research Professor. He established a new research group, the Medical Graphics research group, with a strapline that really captures Nigel's passions in research – eXtended Reality Solutions for Healthcare – his passion for healthcare, caring for others, and for research focused on solutions.
Nigel's commitment to Eurographics was manifested through his support for the annual conference and association's UK Chapter for very many years. He played a key role in bringing the annual Eurographics Conference to the UK: in 2001 to Manchester and 2011 to Llandudno and in conference organization and various chair positions in organizing committees. Reflecting his international standing, Nigel was appointed co-chair of the Eurographics 2008 conference held in Crete. Nigel made major contributions through membership of the Association's Executive Committee and his chairmanship (2005-2008) and membership of the Association's Professional Board. He was also very active in the Eurographics Visual Computing for Biology and Medicine (VCBM) workshop and community, and he organized the 2015 event in Chester. Reflecting Nigel's contributions to research and to Eurographics, he was elected as a Fellow of Eurographics in 2009.
He was elected as a Fellow of the Learned Society of Wales (the national academy for arts and sciences in 2014.
A very recent award and one of which Nigel could be justly proud was the award of a higher doctorate, the degree of Doctor of Science, by the University of Chester in 2021, conferred in 2022. This was only the second time the University had awarded this degree and the first to a member of staff. Higher doctorates are rare awards, made in recognition of a sustained programme of very high quality research. A very fitting tribute to Nigel's research.
There are many people who are very grateful to Nigel for his support and care in their careers.
Nigel's spare-time activities included cycling and rugby and it was always a pleasure to exchange emails with him during key events such as the Tour de France, the Tour of Britain, and international rugby tournaments such as the Six Nations Championship. On his web site Nigel described himself as "a keen supporter of the Wales rugby union team and the Ospreys regional team. A simulator to train rugby skills was one of my favourite projects! Other interests include cycling, pinball, snooker, kite flying and science fiction." A Bangor colleague, Franck Vidal, commented "you cannot forget Pétanque; he was very active locally and visited the pétanque pitch on a weekly basis; he also loved board games and had an extensive collection of Monopoly Games".
At a personal level, Nigel was a kind, compassionate, inspiring colleague, who cared deeply about the welfare of other people and the ways in which computer science and allied disciplines could improve the lives of others. He will be sorely missed by us all and to his wife, and family, we extend our sincere condolences.
David Duce and Phil Willis
[Image reproduced with permission from the University of Chester]